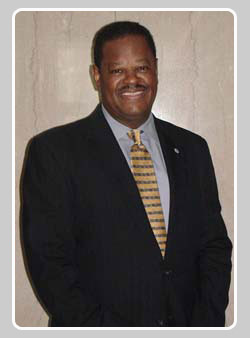 Dr. Rufus Sylvester Lynch, ACSW
Dr. Rufus Sylvester Lynch, ACSW
NASW Social Work Pioneer ®
Professional Profile
Rufus Sylvester Lynch, a NASW Social Work Pioneer ®, has served as President and Principal Investigator of the Institute for the Advancement of Working Families (IAWF): A Forensic Education, Behavioral Health, and Employment Services Corporation, since October 2001.
In July 2004, Dr. Lynch took a leave of absence to become Dean and Professor at the Whitney M. Young, Jr. School of Social Work (WMYJSSW) at Clark Atlanta University (CAU). Dean Lynch returned to Philadelphia, in November 2007, after successfully leading the School through the Council on Social Work Education (CSWE) Commission on Accreditation (COA) re-affirmation process.
Dr. Lynch has taught at over a dozen colleges and universities; authored or co-authored over 22 published manuscripts in professional books and/or scholarly journals; and actively participated in over 60 professional conferences, workshops, and training institutes.
The subjects of aging and care of the elderly were an early theme in Dr. Lynch's research and writing. He served as a Gerontology Fellow at the Philadelphia Regional Office of the U.S. Department of Health, Education, and Welfare. He has written about educational services for older persons, training for those who work with senior citizens, and organizational improvements in the field of aging. Dr. Lynch's later writings have been devoted to the empowerment of communities, defining an appropriate role for social workers who practice in justice system settings, and the discussion of ethics that guide the practice of social work. Presently, Dr. Lynch's research agenda includes a commitment to the study and research of males within the context of family; internal and external factors that lead to responsible fatherhood; successful transition models for youth and young adults aging out of America's Foster Care and Juvenile Justice Systems; and the 21st century role of Historically Black Colleges and Universities (HBCU). Dr. Lynch currently sits on the Editorial Board of the Journal of Forensic Social Work published by the National Organization of Forensic Social Work (NOFSW).
Significant Accomplishments in Government, Education, and Business
Dr. Lynch has served in senior staff positions in each of the three branches of Pennsylvania's State Government and has held executive positions in private industry, higher education, and nonprofit corporations:
Through IAWF, he pioneered the delivery of forensic services to Temporary Assistance to Needy Families (TANF) recipients and Low-Income Wage Earners, needing to overcome legal impediments to employment and economic self-sufficiency, in order to reconnect with their children.
Dr. Lynch brought energy and excitement to the Clark Atlanta University School of Social Work and its new name—Whitney M. Young, Jr. School of Social Work—by changing the curriculum to add forensic social work and gerontology as areas of graduate study. Managed the successful reaffirmation of its accreditation by the Council on Social Work Education (CSWE) Commission on Accreditation (COA)—gaining reaccreditation until 2014.
Within 18 months, he increased the annual Philadelphia state welfare-to-work programmatic budget at the Philadelphia Workforce Development Corporation (PWDC) from $30 million to $50 million.
Designed, organized, and managed a state-sponsored transitional welfare-to-work employment and training department within the Private Industry Council, Inc. (PIC) of Philadelphia; City of Philadelphia Workforce Investment Fiscal Agency.
Founded and served as President (pro bono) of Fresh Start Community Development Corporation, a West Philadelphia/University City initiative, designed to transform a working class salient community into one with a voice.
In collaboration with the Constable Association of Pennsylvania and the Administrative Office of the Pennsylvania Courts (AOPC), Dr. Lynch spearheaded the development of the first comprehensive legislation in Pennsylvania's history to regulate constables who serve the judiciary. The Governor signed this legislation on November 29, 1990.
Served as Chief Author and Architect of legislation creating the Pennsylvania Department of Aging, still in effect today, and caused to be drafted, the first multi-level educational social work licensure bill ever introduced in the Pennsylvania General Assembly.
Selected Experience, Associations, Achievement, and Recognitions:
Greater Philadelphia
Special Assistant to the President, Philadelphia City Council
Gerontology Fellow, Philadelphia Regional Office of the U.S. Department of Health, Education and Welfare
Chair, Philadelphia Division of the National Association of Social Workers
Consultant, PRWT Services, Inc., Philadelphia, Pennsylvania
Founder, co-founder, manager, or advocate for the development of several non-profit charitable corporations as follows: Center for Studying Social Welfare and Community Development; Berean Presbyterian Institute for Family Preservation and Policy Development; Fresh Start Community Development Corporation; Philadelphia Juvenile Justice Center, Inc.; Institute for the Advancement of Working Families (IAWF); Foundation For Restorative Justice; American Cities Foundation; Edgar Sr. and Carol Ann Foundation; and the Center for Working Families in Atlanta, Georgia
Emeritus Member, Board of Directors, Renaissance Advantage Charter School
Chair, American Cities Foundation (Philadelphia, Pennsylvania)
Program Advisor, The Foundation For Restorative Justice (Philadelphia, Pennsylvania)
Program Advisor, Edgar Sr. and Carol Ann Campbell Foundation (Philadelphia, Pennsylvania)
Member, Bread and Roses Community Fund Grant Making Committee
Member, Philadelphia 21st Century Review Forum
Member, Board of Directors of SWIFT (South West Initiative for Transformation)
Member, Board of Directors, West Philadelphia YMCA and Family Center
Member, United Way of Southeastern Pennsylvania Fund Distribution and Community Problem Solving Committee
Member, Oral Board of Examiners, City of Philadelphia, Personnel Department
Philadelphia County Representative to the NASW-PA Leadership Council
Candidate for public office and manager of successful campaigns

Commonwealth of Pennsylvania
State Director of Court Management, Supreme Court of Pennsylvania, Administrative Office of Pennsylvania Courts (AOPC)
Executive Director and Chief of Staff, Pennsylvania House of Representatives, Office of the Speaker
Senior Human Services Policy Advisor, Commonwealth of Pennsylvania, Office of the Lieutenant Governor
Governor's Appointee, Co-Chair, Pennsylvania Department of Aging Transitional Task Force
Pennsylvania's Social Worker of the Year
Distinguished Alumni Award for excellence in social work practice, University of Pittsburgh, Graduate School of Social Work
Distinguished Scholar in Residence, Pennsylvania State University, Department of Social Work
Graduate of the Commonwealth of Pennsylvania Deputy Sheriff's Basic Training Program
Certified to Perform the Duties of a Pennsylvania Magisterial Judge (District Justice)
Consultant, Pennsylvania Department of Public Welfare, Bureau of Employment and Training Programs
President, Pennsylvania Chapter of National Association of Social Workers
National
Commissioner, National Certification Commission (NCC), at the National Association of Alcoholism and Drug Abuse Counselors (NAADAC), (Washington, D.C.)
Graduate, Institute for Court Management, National Center for State Courts, Court Executive Development Program (Williamsburg, Virginia)
Editorial Board, Justice System Journal (Institute for Court Management, the National Center for State Courts
Editorial Board, Journal of Forensic Social Work (National Organization of Forensic Social Work (NOFSW)
Reviewer, Race, Gender and Class (Inter-disciplinary and multi-cultural Journal)
Grant Application Reviewer, U.S. Department of Education, Fund for the Improvement of Post- Secondary Education (Washington, D.C.)
White House Invitee: White House Conference on Aging, White House Initiative on Historically Black Colleges and Universities (HBCUs); White House Roundtable discussion on "Faith-Based and Community Strategies to Promote Healthy Families", White House Roundtable discussion on Strengthening Compassion by "Building the Capacity of Frontline Faith-Based and Community Organizations"; and White House Conference on Connecting Communities for the Common Good
Interviewee: national press and national radio
National Project Coordinator, U.S. Department of Health and Human Services (HHS), Administration for Children and Families (ACF), Office of Regional Operations (ORO), Historically Black Colleges and Universities (HBCU) Deans and Directors of Schools of Social Work and Interdisciplinary Academic Social Science Programs (Washington, D.C.)
Chair, National Advisory Committee for the Historically Black Colleges and Universities (HBCU) – Center for Excellence in Substance Abuse and Mental Health, at Morehouse School of Medicine, Department of Psychiatry & Behavioral Health Sciences/Cork Institute, Funded by the U.S. Department of Health and Human Services (HHS), Substance Abuse and Mental Health Services Administration.(Washington, D.C.)
Mentor, Leadership Institute for HBCU Emerging Leaders, Addiction Technology Transfer Center (ATTC), University of Missouri-Kansas City
Peer Reviewer, U.S. Department of Justice, Office of Juvenile Justice and Delinquency Prevention (Washington, D.C.)
Consultant, Future Leaders Institute (FLI) Charter School (New York City)
Inducted as a NASW Social Work Pioneer ® National Association of Social Workers (Washington, D.C.)
National Consultant, The Whitney Young Film and Leadership Development Project (Los Angles, California)
Program Consultant, Illinois One Family One Child (Chicago, Illinois)
Program Consultant, National Association of Former Foster Care Children of America, (NAFFCCA), (Washington, D.C.)
Board Member, The Institute for the Advancement of Political Social Work Practice, University of Connecticut, School of Social Work, (Hartford, Connecticut)
Founding Member, The Center for Working Families, Inc. (Atlanta, Georgia)
Team Coach; Partners for Recovery/Addiction Technology Transfer Center Network Advanced Leadership Institute (ALI), sponsored by the U.S. Substance Abuse and Mental Health Services Administration (SAMHSA), and the Center for Substance Abuse Treatment (CSAT), (Washington, D.C.)
Professional Memberships/Affiliations:
National Association of Social Workers (NASW)
National Organization of Forensic Social Workers (NOFSW)
Council on Social Work Education (CSWE)
National Association of Court Management (NACM)
Black Administrators in Child Welfare (BACW)
American Bar Association (ABA)
July 31, 2011